What Is a Podcast?
Do you want to know what is a podcast? Then, you've come to the right place.
Maybe you've been living under a rock, and you just came across this word. Or perhaps you want to learn about your favorite hobby through a podcast.
If you want to know what a podcast is and how it works, this article is for you.
What is a podcast?
A podcast is a program that you can download or stream and listen to. It's the streaming age's answer to the radio.
Unlike traditional content production methods like TV and radio shows, podcasts are an accessible way for content creators to connect with an audience.
Anyone who has basic podcast equipment like a microphone and recording software can create their show. You would also need a membership to a hosting platform to publish a podcast.
Podcasts also come in versatile formats. They can be a one-man show where a host is talking about what they know, or they invite an expert or an interesting guest. They can be educational or purely entertaining.
Each podcast is a series released in separate podcast episodes online in the podcast directory. The directory enables subscribers to download audio files and listen to each podcast episode when it's released.
Podcasts have become an extremely popular form of audio entertainment and have progressed beyond being downloadable radio shows.
Podcasts are an extremely popular form of media that's growing quickly. Individuals produced the first podcasts, but now they're also made by companies, news outlets, and other organizations. As a result, podcasting has become big business, with companies like New York Times, ESPN/ABC, and NBC News heavily invested in podcasting.

Check out what is best podcast structure!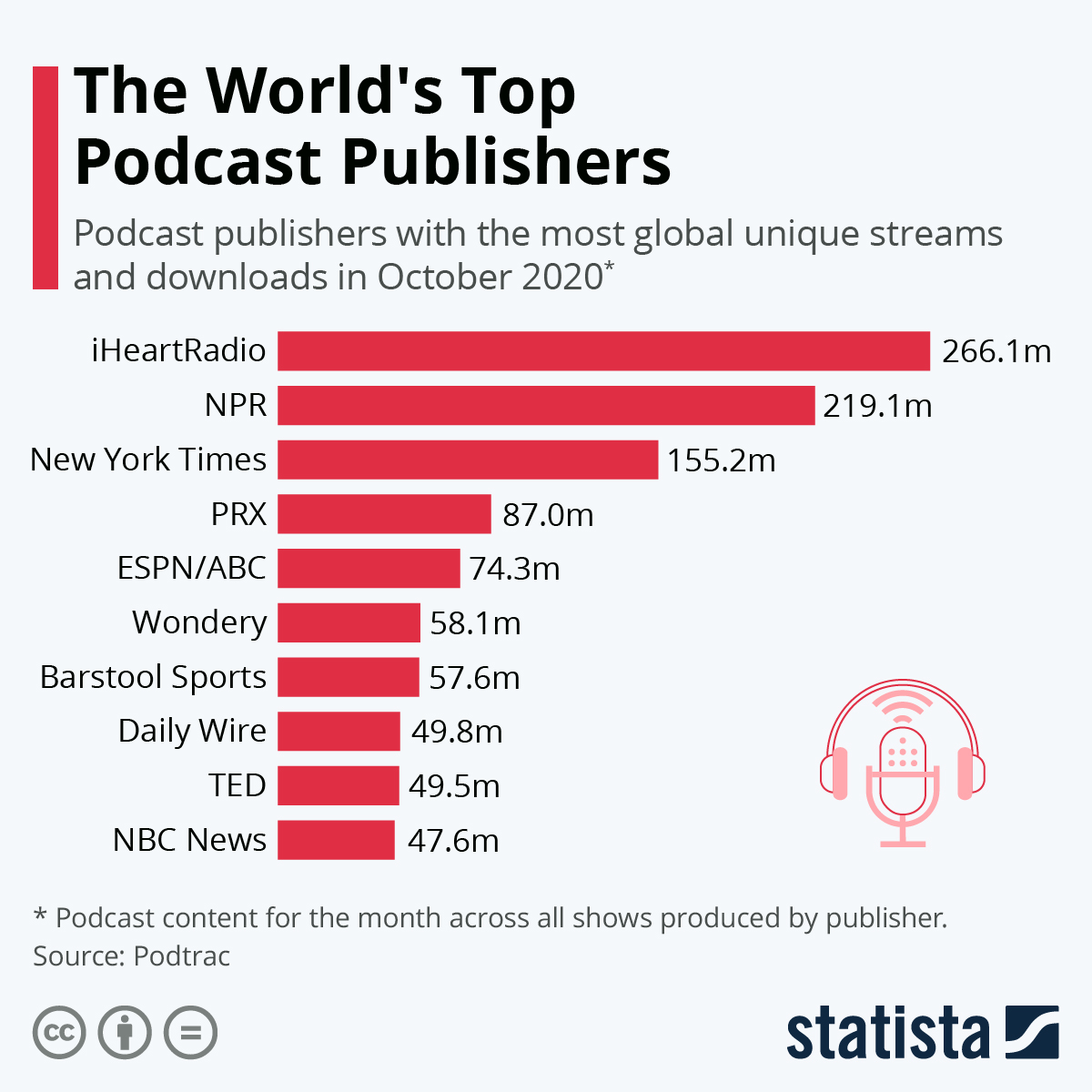 Podcast history
There is an interesting story behind the name "podcast."
First podcasts were developed in 2004 when former MTV presenter Adam Curry and software developer Dave Winer created the "iPodder."
The iPodder was a program that enabled people to download radio broadcasts to listen on Apple iPod.
That is how the meaning of podcast was born, taking its name from a blend of 'iPod' and 'broadcasts.'
Do you know What is ASMR?
Are podcasts free?
Yes.
Some podcasts are behind a paywall, but the audio content is usually free. Some can be interspersed with some ad-reads.
The word "subscribe" often comes up in podcast apps, which concerns people. However, the podcast subscription doesn't come with any additional costs. Subscribing to a podcast is like signing up for a website's newsletter.
Check out Intriguing Content Marketing Statistics For 2022!
What are podcasts for?
Podcasts can be used for entertainment, education, and connection with like-minded people.
A podcast is a great way for the listener to learn about a topic of interest or be entertained. The form of the podcast is very convenient – you can listen to it wherever you are.
Podcasts are really easy to find due to their growing popularity. As a result, they will cover a wider and deeper range of topics.
Podcast listeners have various reasons to subscribe to a podcast, such as:
hearing updates on current events.
learning about a new topic or industry they're interested in
listening to a podcast host that they perceive as an authority
laughing at the host's jokes.
listening to interviews with famous or interesting guests.
experiencing an audio drama or narrative storytelling.
However, the main reason is that they want to enjoy the experience of listening to a podcast. Whether you want to learn something new, or simply you have something to take your mind off of, they want to be entertained.
On the other hand, we have podcast creators and their reasons for starting a podcast. The uses and benefits of creating a podcast can be enormous for the podcast creator.
Podcasts are a great way to build an audience by entertaining or educating listeners on a specific topic.
A podcast is also a great way for the podcaster to speak directly to people using your voice.
That's why many companies and famous personalities choose to set up their own podcast. They can show the listeners behind the scenes their profession.
Also, podcasting is a great way to scale intimacy and make a direct connection with each of your listeners.
Thousands may hear your own podcast episode of people, but for each listener, there's just you.
What is a vodcast or video podcast?
A video podcast is a format for podcasts that is growing in popularity. Audio is still the main part of podcasts, but many podcasters are publishing video files on YouTube in addition to audio to broaden their audience.
With this comes the possibility of adding visual elements. Content creators can appeal to wider audiences and make their content even more, engaging with video podcasts.
How do podcasts work?
The process of creating and publishing podcast content is quite easy. First, podcast creators record and edit a few podcast episodes, and then they need to upload them to their podcast host.
Then, podcast creator submits their show's RSS feed to podcast directories like Spotify or Apple Podcasts.
Podcast directories are podcast listening apps where your audience can find your podcast, subscribe, rate and review.
Directories are the place where podcasters and listeners can connect. Using their favorite podcast platform, people can find, subscribe to, and listen to podcasts.
What is a podcast host?
We know podcast creator needs to submit their RSS feed to podcast directories to publish them, but how do you create a podcast's RSS feed?
You'll need a podcast host. Not as in a person that is the show's presenter but as an online service.
A podcast host is a place to store and distribute your podcast's audio files through an RSS feed. The podcast host generates the RSS feed for your podcast, then submits it to podcast directories.
Most popular podcast hosting platforms
A podcast hosting service is a must if you're searching for a specific podcast or want to search for a new one. Here are some of the most popular podcast platforms:
Spotify
Apple Podcasts
Google Podcasts
Pandora
Website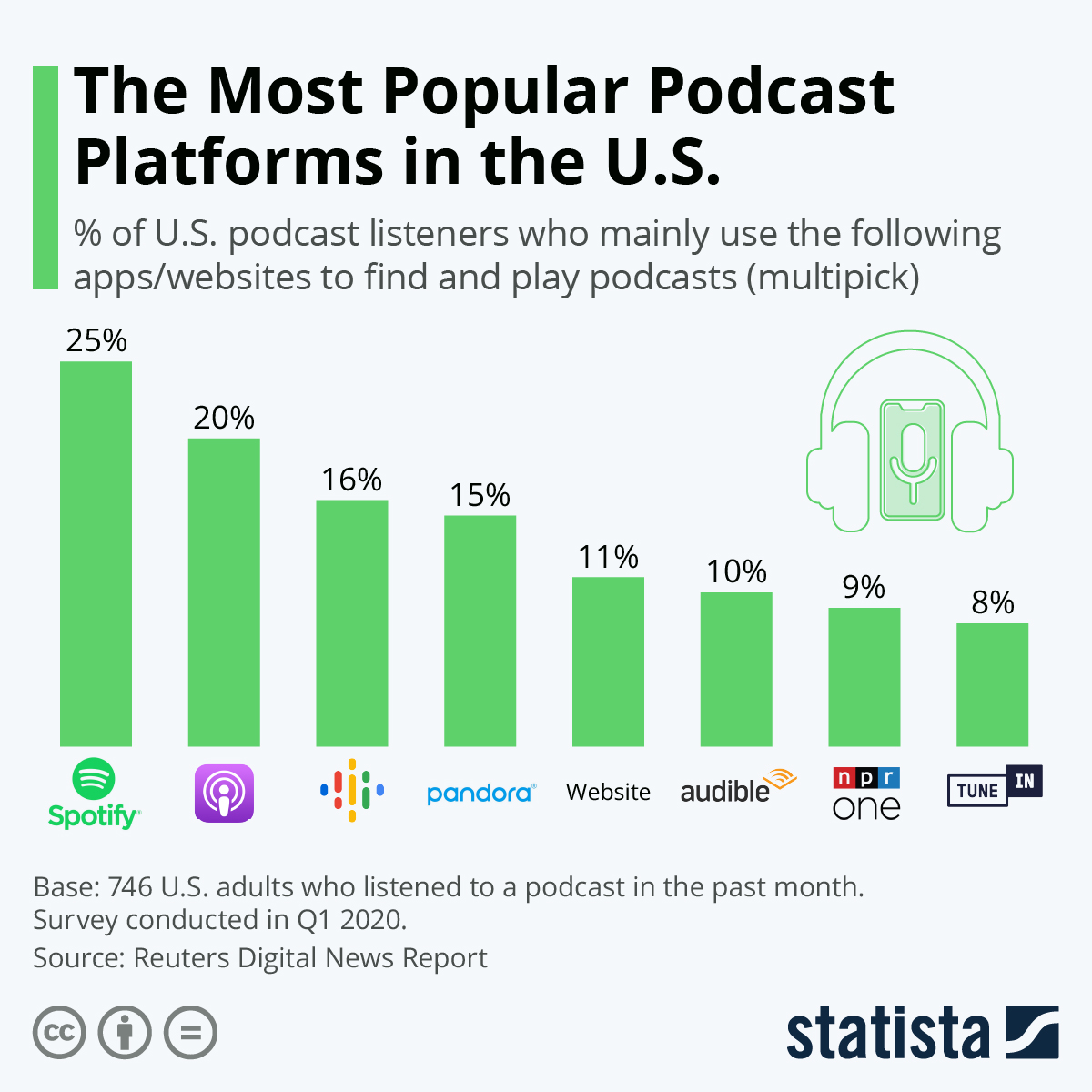 Types of Podcasts
Podcasts are as varied as the people who make them. With their growing popularity, the number of podcast types will grow. There are more genres than you can think of. There are podcasts on news and education, health and fitness, or comedy. There are also fiction podcasts that are just a few of the most popular kinds.
While the podcasting world is wide and varying, there are some types we can distinguish, such as:
Narrative nonfiction
Scripted fiction, storytelling
Interview podcast
Cohosted
Roundtable
Documentary
Of course, these are loose categories. Most podcasts are mixes or hybrids of multiple formats.
There are also many subtypes of podcasts within these formats. For example, Statista's most popular podcast genres in October 2021 were comedy, news, true crime, and sports.
Check out Content Marketing Objectives Examples To Inspire You!
Podcast examples
Below, we present the most popular podcast examples:
The Joe Rogan Experience – A podcast hosted by a stand-up comedian and TV host, Joe Rogan. He often courts controversy with his blunt and, at times, inflammatory presenting style.
The Daily – A news podcast and radio show created by The New York Times. Political journalist Michael Barbaro hosts it.
Crime Junkie – a true-crime podcast hosted by Ashley Flowers and Brit Prawat. A podcast tells the stories of murders and missing persons. In the podcast's format, Flowers tells the story, and Prawat adds her perspective.
This American Life – A podcast that is hosted by Ira Glass. The show consists of different stories on a chosen theme.
Stuff You Should Know – The podcast that is hosted by Josh Clark and Chuck Bryant. The podcast educates listeners on an eclectic mix of topics. The show often references pop culture, which gives the podcast comedic value.
My Favorite Murder – Another true crime comedy podcast. It is hosted by comedians Karen Kilgariff and Georgia Hardstark. It launched in early 2016, and since then, the show has been a top-10 regular on iTunes' comedy podcast chart and featured in Entertainment Weekly, The Atlantic, Nylon, and Rolling Stone magazine.
How to Listen to Podcasts
Listening to a podcast is easier than ever. You'll need a smartphone, computer, or any other device with an internet connection.
Then, you'll need a podcast app.
Whichever directory you choose, start downloading the app from the Apple App Store or Google Play. Then, use the app's search function to look for shows you might be interested in. You can listen to a single podcast episode immediately or download it for later. You can also subscribe to shows so that every time each new episode is released, and you'll be notified.
Check out podcast structure!
How to choose a podcast directory?
To listen to podcasts, you'll need a directory.
Some of the best podcast apps are:
Apple Podcasts
Google Podcasts
Spotify
Stitcher
Audible
Some podcast directories have advanced features, like multiple playlists, sleep timers, smart playlists, and suggestions for new shows based on your interests.
You can download some of these apps to your device or access them via the Internet.
So which one should you choose? There's not much difference between them for an average podcast listener.
If you're an iOS user, then Apple Podcasts is the way to go. If you use an Android device, you can use the Google Play Music app.
Conclusion
Now that you know all about podcasts, it's time to start listening! The best way to get started is by downloading a podcast app on your smartphone, computer, or tablet. Then, use the app's search function to look for shows you might be interested in. You can listen to a single podcast episode and subscribe to shows so that each new episode is added to your playlist.
Podcasts are a great way to stay entertained, informed, and connected. So what are you waiting for? Start listening today!